Microphone Screen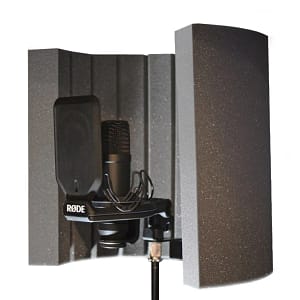 Microphone screen from the Pro Acoustic range. CNC cut acoustic foam screen with fixing bracket and mic stand attachments. This ultra portable Microphone reflection filter is designed to help you attain clearer and much more defined vocals.
The screen will not only absorbing the singer's energy on the inside to give a less ambient sound. It will also partially absorb scattered room reflections on the outside. The acoustic foam's structure is made to the optimum density and thickness. Using a series of cavities both to reinforce the absorption effect and add structural support to the joint mechanism.
A range of microphones can be used because the screen can be adjusted either vertically or horizontally. It also takes less than 20 seconds to assemble making it ideal for location-based recording venues, project studios and classrooms.
Showing the single result