AFMS Acoustic Foam Microphone Screen "Portable Vocal Booth"
FREE DELIVERY
Ideal for recording studios – mixing rooms – vocal booths – podcasters

Lightweight – Easy To Assemble

Fixing Bracket, 5/8″ to 3/8″ Mic Thread Adapter and 3/8″ to 5/8″ Mic Thread Adapter included

*Microphone, stand and pop shield not included*
This microphone Screen is lightweight, easy to assemble and portable. Great for vocalists on the move and pop up studios or a great addition to a vocal booth.
Comes with fixing bracket and mic stand attachments. This portable Microphone reflection filter is designed to help you attain clearer and much more defined vocals.
CNC Profile Cut Open Cell Melamine Treated Grey Acoustic Foam, 25kg / m3 Density Foam which has a controlled permeability and open cell structure that gives optimum acoustic performance for a foam of this density. Hardness 125 to 155 Newton's.
Additional Information
The acoustic foam's structure is made to the optimum density and thickness, using a series of cavities both to reinforce the absorption effect and add structural support to the joint mechanism. Therefore the screen will absorb the singer's energy on the inside to give a less ambient sound and also partially absorb scattered room reflections on the outside.
The screen can be adjusted vertically or horizontally and be used with a range of microphones. 30 seconds is how long it takes to assemble which makes it ideal for projects studios and classrooms.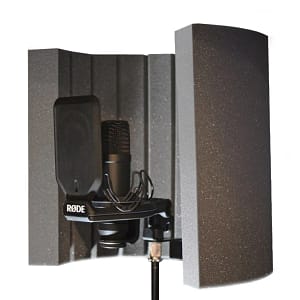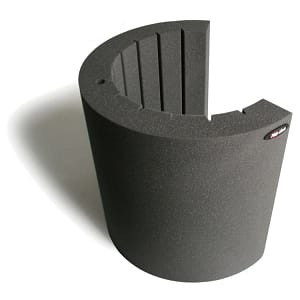 All foam products supplied upon leaving our factory conform to the requirements of Schedule 1, part 1, of the Furniture and Furnishings (Fire) (Safety) Regulations, S.I. 1324 of 1988 (amended 1989), (Amd 1993), and are also suitable for applications requiring FMVSS302. The fatigue class is based on BS3379.
Please note all polyurethane foam will react to UV light and can fade and yellow over a long time. Fading in colour will in no way affect the foams sound absorption performance.
From The Manufacturer – Comfortex Limted